Japanese Maple trees are one of our favorite specimen trees to put into our landscape designs.  Although not a native, the Japanese Maple tree thrives in the Southeastern US and is very adaptable to a variety of environmental conditions.  There are around 200 different varieties of Japanese Maples that are readily available from many different sources.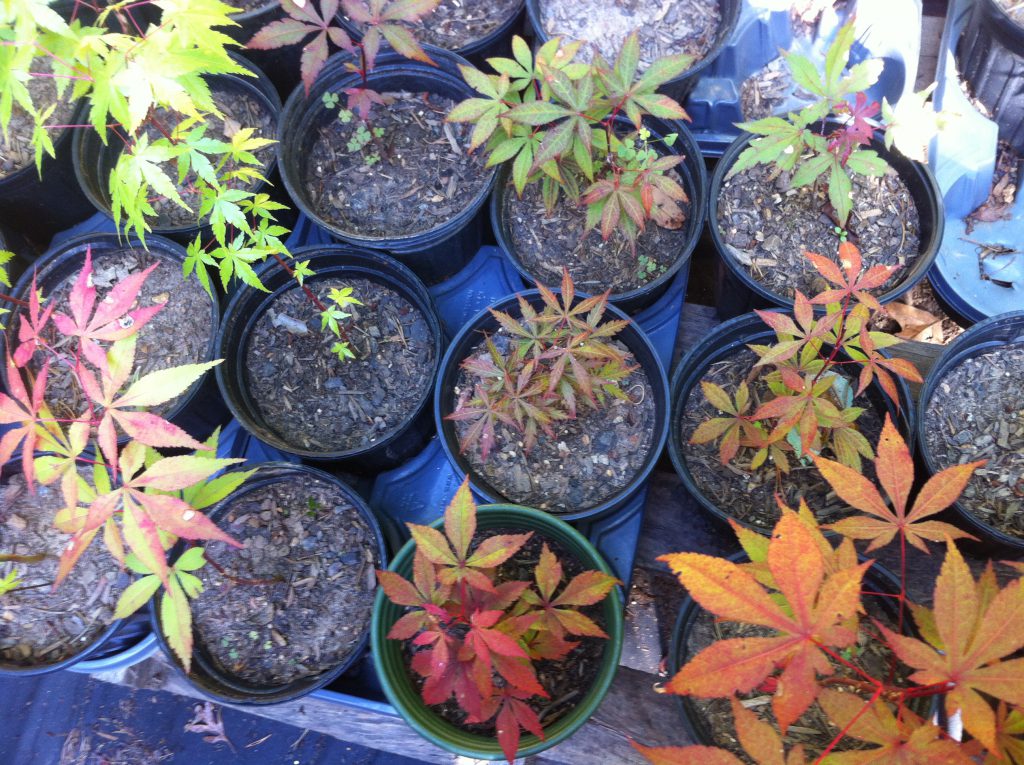 The incredible variety of colors, shapes and textures found in the Japanese Maple family.
When many people hear "Japanese Maple", they immediately picture the classic "Bloodgood" variety-  red/ maroon leaves, upright form reaching about 25′ tall and wide.  While this is a great choice for the right spot in your landscape, there are so many different sizes, forms, colors and textures that can be achieved by researching and choosing just the right tree for your space.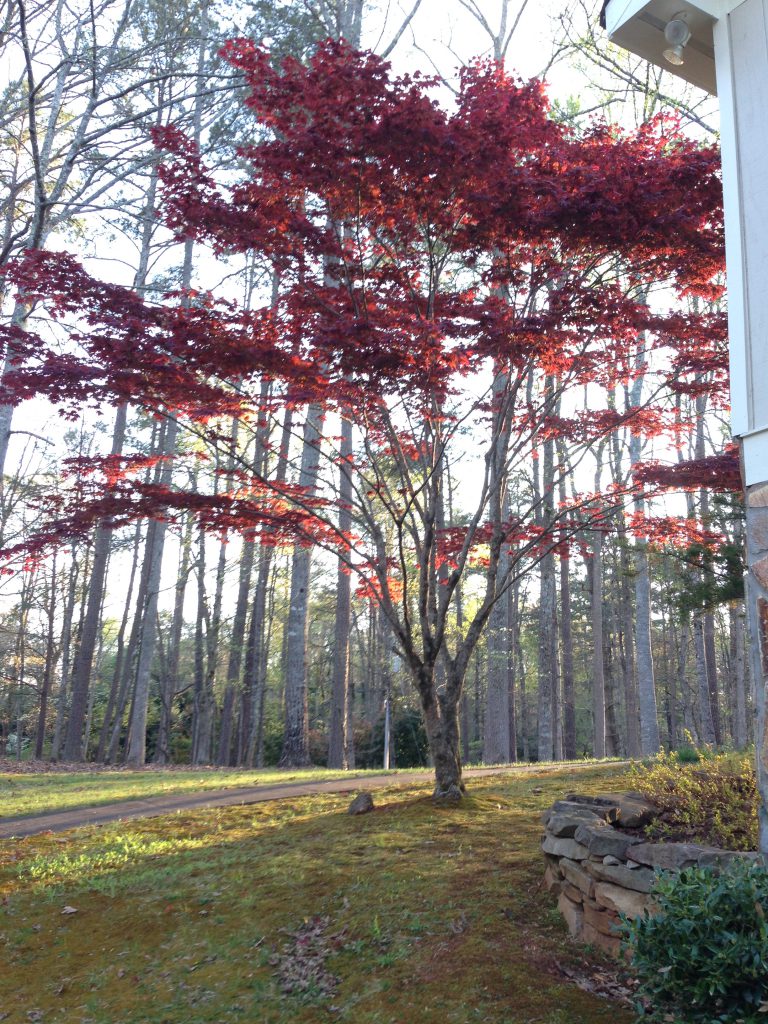 A Bloodgood Japanese Maple in my front yard.
One of our current favorite cultivars is the "Mikawa Yatsubusa" Japanese Maple.  With a vibrant green bark and incredibe abnormally twisting form, the Mikawa Yatsubusa catches the eye even in the Winter without its leaves.  As spring approaches, the thick red buds add an lovely contrast, letting you know the leaves are on their way out.  The next few weeks are my favorite, watching this intricate specimen produce and expand its foliage.  The layered nature of the leaves are tightly packed onto the stems, giving the appearance of large flower buds from a distance.  Then as you get closer, you notice the detail of the foliage and truly appreciate the beauty and form of the tree.  This specimen is a true dwarf and will  only reach a maximum 8′ tall and 6′ wide, making it an ideal choice for a container tree, or a focal point for a smaller scale garden.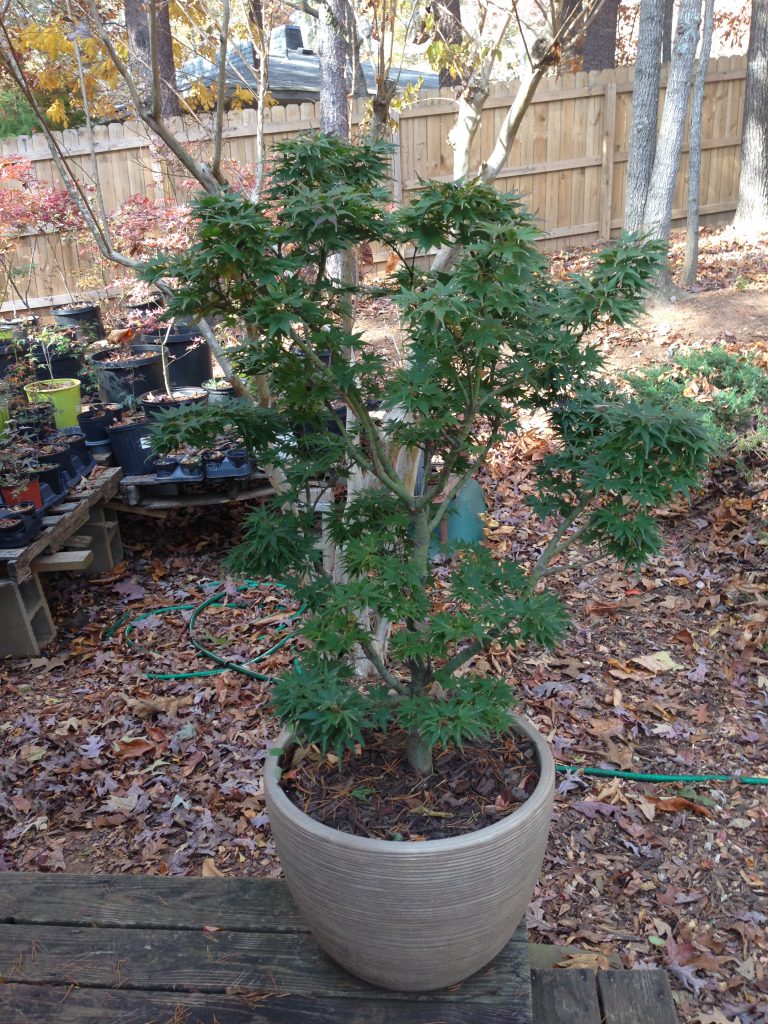 A Mikawa Yatsubusa in a large pot on the deck.
For other applications in the landscape, we often use a weeping laceleaf Japanese Maple to create and interesting, shorter focal point in the center of a featured bed.  Our favorite of the red leaved weeping laceleafs is the Red Dragon.  This cultivar has an interesting, slightly lurching form that catches the eye a little better than its close relative- the Crimson Queen.  While both of these red leaved dwarf trees are great focal point trees, the Red Dragon proves its value with its brilliant red fall color.  In other scenarios, often with a red brick house, we will choose a green laceleaf tree to contrast with the back drop better.  We like the "Waterfall" or the "Viridis" cultivar for these scenarios.  Also, if you are wanting one that will stay under 6′, but still have that bonsai, miniature tree look, the "Sharp's Pymgy" is a great choice.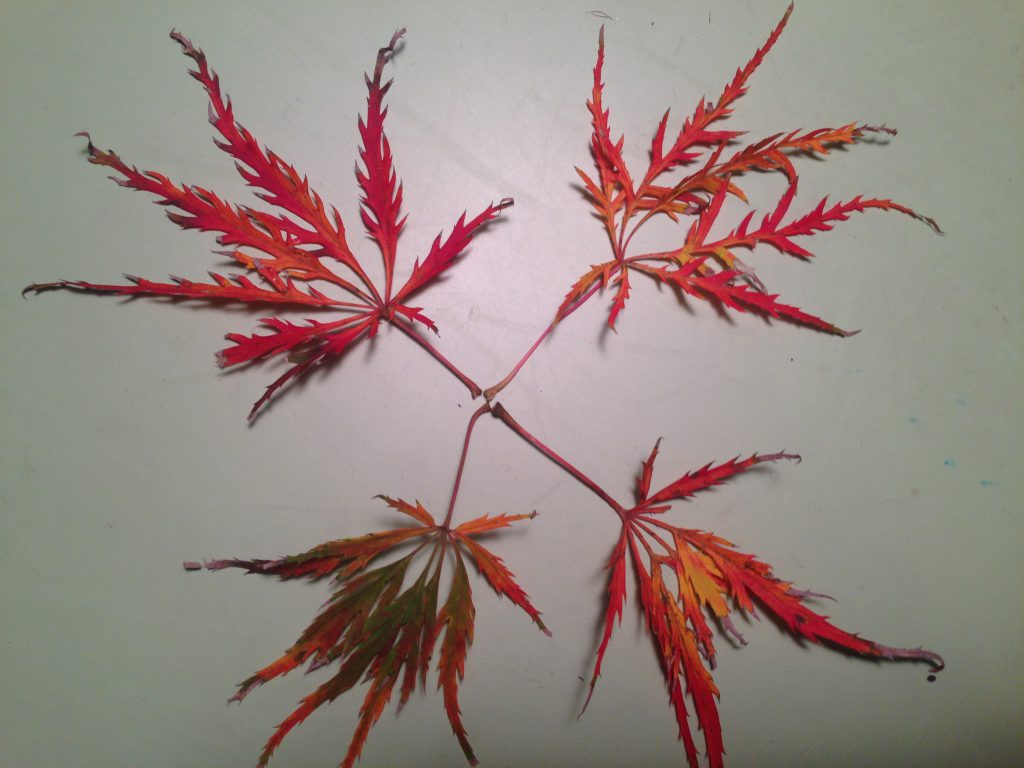 The fiery fall color of the "Viridis" Japanese Maple
We have had the opportunity to plant dozens of Japanese Maple trees over the years in different client's yards, and we regularly get comments on how great of a focal point they are.  Sometimes clients let us get a little wild and we will design 3 or 4 different cultivars into one area.  The end result is always an interesting, colorful enhancement to their yard.  Do some research and see what tree would fit nicely into your own yard!  One of my favorite sites to browse and buy from is www.pacificcoastmaples.com.  They will ship you a 2-3 year old grafted cultivar of one of their many dozen different cultivars that they grow.  And of course many nurseries around Atlanta specialize in carrying many different types.  Let PED know if we can add some interest to your yard!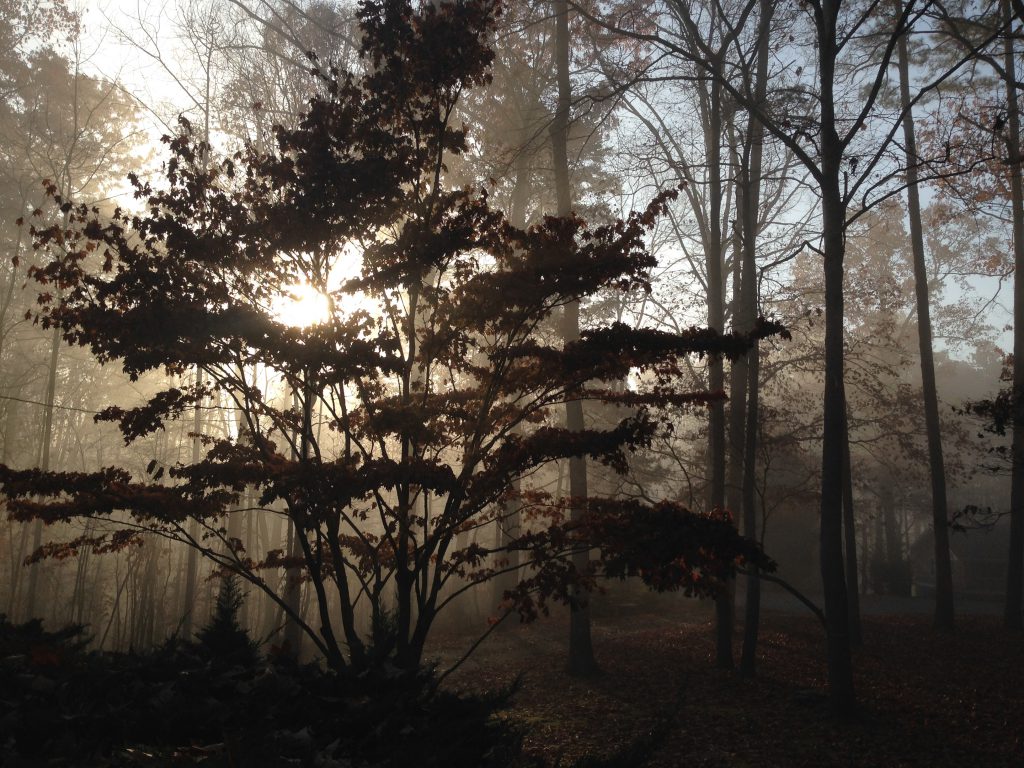 -RGH